Superior Layered Design
Made to last through whatever intense workouts you can think of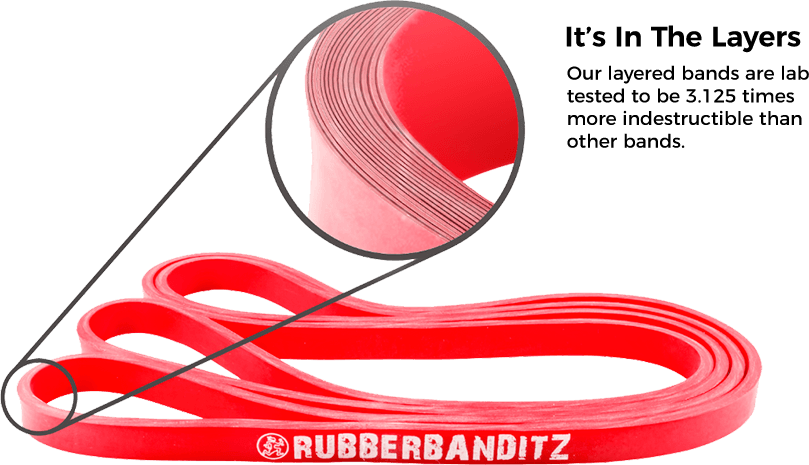 600+ How-To Videos

Lifetime Warranty
100% Satisfaction Guarantee

Free Shipping
On all US orders over $60

Snap Resistant Bands
Rugged layered design lasts longer
Individual Bands
Size and Use Cheat Sheet
CrossFit Training On-The-Go With Resistance Bands
Mobility + Mobile: Your Out of the Box WOD Solution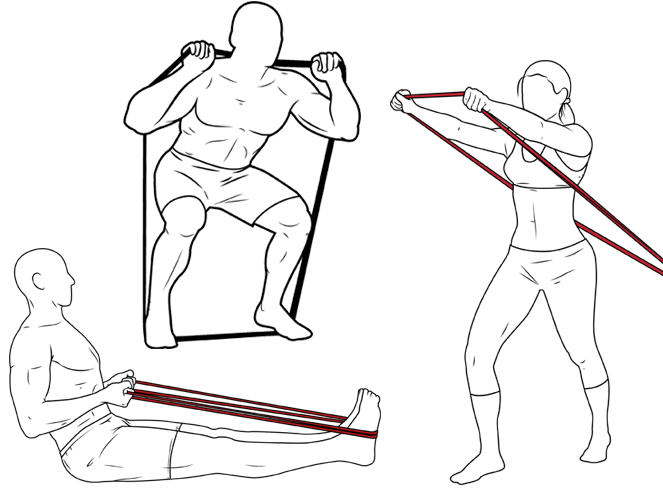 CrossFitters understand the inherent value in training to become a well-rounded athlete using functional movements. We adopted several movement patterns that are commonly performed with weights and retrofitted the exercises to use elastic resistance instead of iron load. Just because you don't have the time, access, or resources to visit the gym doesn't mean you have to blow your WOD : )
Each exercise can be scaled accordingly, depending on the resistance required. The exercise bands also place less stress on joints, thus providing a dynamic low impact training environment. We've highlighted several ways you can use your CrossFit bands for both resistance training as well as assisted bodyweight training (such as assisted pull-ups or muscle-ups).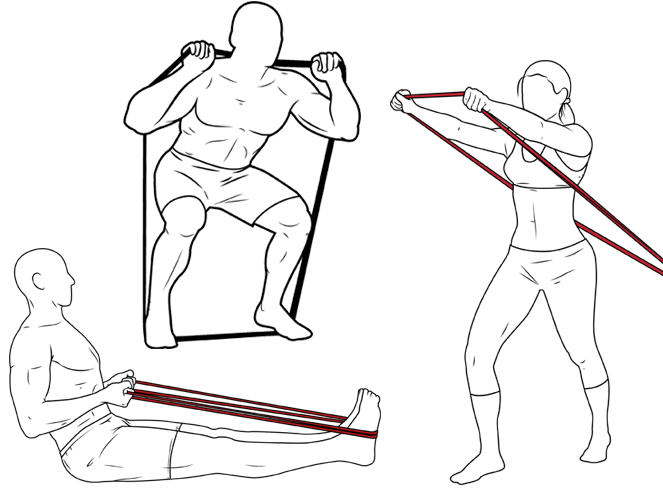 How to use CrossFit Bands for a Mobile WOD Anywhere
In a bent-over position with palms facing your body, pull yourself up with your core and raise your chest until you are in an upright position. Keep arms by your side and back straight. Slowly lower torso back to starting position by pulling your hips back and keeping your shoulders over your ankles. Tips: All body movement should originate by bending at...
Get Your CrossFit Workout Anywhere
Exercise band kits create for athletes of all levels
RubberBanditz offers an array of exercise bands and garage gym accessories to scale many different types of exercises. Regardless you're a seasoned elite athlete or beginner looking for a convenient way to get in better shape, these simple resistance band kits help bring the box to you!
Ideal for youth and beginner strength training athletes

Portable and affordable option for light-medium resistance workouts you can safely do anywhere

$59.95

Ideal for 60% of adults in need of an effective training tool with low to high resistance levels.

Basic Kit + heavy band. Strengthen every muscle group in the body with resistance ranges broad enough to tackle any WOD.

$74.95

Ideal for intermediate-advanced adults making aggressive strides. Combines resistance training + assisted pullups.

Strength, stamina, stability, mobility. The fully self-contained functional training arsenal that forges elite well-rounded athletes

$89.95
Tips For Using Different Sized CrossFit Bands
Tailor the amount of resistance you need for each exercise
Measure your strength gains, mix up your AMRAPs, or do drop sets with different sized bands:

Start with a lighter exercise resistance band

Increase difficulty by subbing in a heavier exercise band

Combine both bands for maximum resistance
Find the right amount of elastic load for each exercise
Think of each CrossFit band as a different multi-tool in your workout toolkit

Use lighter resistance for warm ups and smaller muscle groups

Target larger muscle groups with a thicker resistance band

Engage your strongest muscle groups with the highest resistance
What our customers are saying
"I'm a consultant and travel Mon-Thurs almost every week and it's often hard to find a CrossFit box near my hotel. These resistance bands, which I had used for assisted pullups, have been a huge help in keeping me active and give me some of the best hotel room workouts I've ever had, especially when time is limited"