Superior Layered Design
Made to last through whatever intense workouts you can think of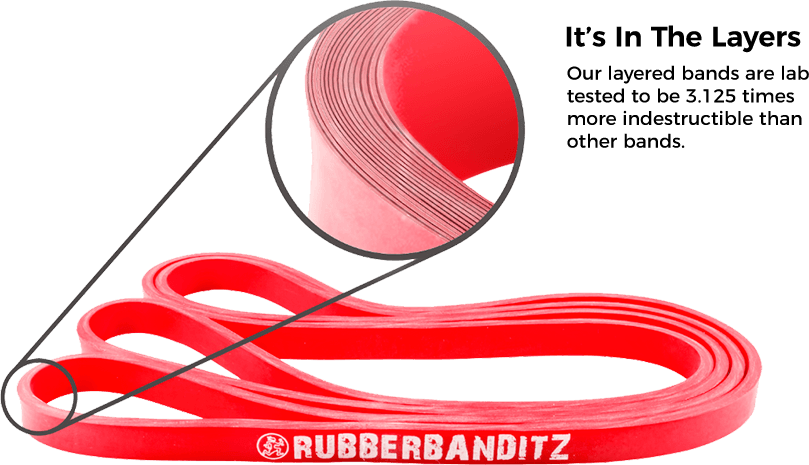 600+ How-To Videos

Lifetime Warranty
100% Satisfaction Guarantee

Free Shipping
On all US orders over $60

Snap Resistant Bands
Rugged layered design lasts longer
Individual Bands
Size and Use Cheat Sheet
Assisted Pull Up Resistance Bands
Proudly here to pull up assist you
Pull ups can engage and strengthen nearly your entire upper body through the simple motion of pulling yourself up to the pull up bar. It is a highly functional movement pattern that requires multiple muscles groups to work together. If you are like most of us, you probably need a little pull up help to get you going. Lucky for you, Rubberbanditz offers pull up equipment that will help you take your workout up a notch.
Below you'll find a quick cheat sheet that explains how to use pull up assist bands to build strength and scale your rep count. Before you know it, you'll be a pull up cranking machine! Try out our pull up resistance bands to see for yourself just how effective these bands really are. Below you will find a few useful exercises to help with pull ups and other strength training techniques like an assistance chin up. Whether you are starting with modified pull ups or you are already a complete pro, our pull up equipment will help to improve your strength no matter what your current fitness level may be.
How Do I Use Pull Up Bands
The best way to get better at pull-ups is to do assisted pull-ups. Pull up straps offset your bodyweight so you get more reps and increase strength faster. As you get stronger you'll need less pull up band assistance and can use a lighter band. To use our resistance bands correctly on the pullup bar: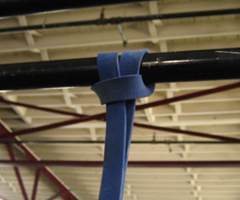 Fasten a band onto the pull up bar by pulling one side through the other.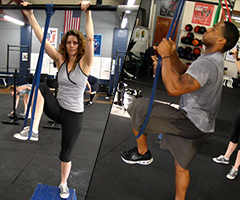 Place a foot or knee in the pull up band. Using the foot makes it easier.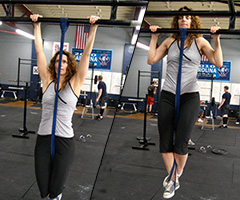 Complete controlled assisted pull up reps without swaying back and forth.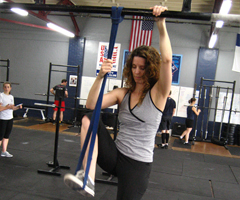 Step out of the pull up strap with one foot, then release the other to avoid snapbacks.
Accelerate Your Pullups Game
Trusted pull up assist band sets for all fitness levels
The most common question we get is "Which pullup band is right for me?" We've got you covered! All you need to know is your weight and how many unassisted pullups you can do. Once you find your band combo, click on it to see the item in our store.
I can do less than 5 unassisted pull-ups and my weight is...
Heavy & Robust

Resistance Band Combo

$39.95

Heavy & Power

Resistance Band Combo

$44.95

Robust & Power

Resistance Band Combo

$49.95
I can do more than 5 unassisted pull-ups and my weight is...
Medium & Heavy

Resistance Band Combo

$28.95

Heavy & Robust

Resistance Band Combo

$39.95

Heavy & Power

Resistance Band Combo

$44.95
Why Two Bands Instead of One?
Combine Your Bands For a Wider Range of Pullup Assistance
As you fatigue you'll need a bigger boost, and as you get stronger, you'll need to lower the assistance. Mark your progress by lowering the tension.

Combine both bands for maximum pullup assistance

Remove the lighter resistance band as you get stronger

Progress further and use just the lighter resistance band
Do More Reps and Improve Results with Drop Sets
Perform multiple sets in rapid succession while increasing the assistance each time. This maximizes your energy expenditure and accelerates strength gains.

Do as many assisted pullups as possible with a lighter resistance band

Switch and do another set with a thicker band until you can't do any more reps

Combine both pullup resistance bands on the bar to eek out that last set
What our customers are saying
"I just received my exercise bands, and was astounded to find out I could actually do pull-ups with them! Of course, I hope to be able to pull up without the bands, but for now I am absolutely thrilled. Super fast shipping too!"