ABOUT RUBBERBANDITZ
More than you could ever want to know!
Who the heck are these guys?
Rubberbanditz is a mobile fitness company based in Los Angeles. Our goal is to make fitness accessible to everyone and eliminate any constraints that prevent you from living a healthy lifestyle.
Our founder, Ari, needed a mobile functional training method to stay in shape while serving on a remote island in the Peace Corps. After tinkering with dozens of ideas he discovered that only looped resistance bands could provide a complete strength, stretch and stability training platform that's deployable anywhere.
Rubberbanditz was born.
Ari Zandman-Zeman

Band Commander
Ari is a former D1 basketball player, NASM certified personal trainer and earned an MBA (not Masters in Band Athletics) from UCLA. He is passionate about making the world stronger and creating shared value through social entrepreneurship.
Corey Bergad

Chief of Operations and Stretchagy
Corey is a former D1 nordic skier and avid road/mtn cyclist and stretches his bandz both in the urban jungle of his adopted home in LA as well as in the expansive "jungles" of the national park system.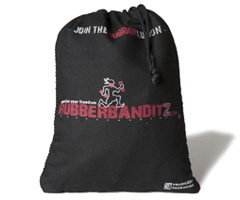 Packaging
The objective of our packaging is to minimize waste. The mobile gym kit comes in a trashless travel bag. That means you can keep all your equipment together, forever — and create 0 waste!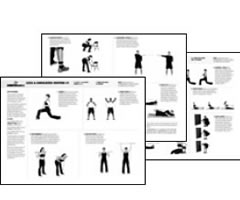 Downloadable Exercise Manual
All customers get the option of downloading the exercise manual instead of receiving the print booklet. The best part for you? You save five percent on your purchase!
Minimal Material
By having detachable grips and straps, it both minimizes the amount of equipment you need and gives you more options in your workout routines. Not to mention, the bands are all you need for a great workout. No bulky machines or weights necessary!
No Gym Commute
The mobile gym package is designed for you to use it anywhere. Home, work, on the river. There's no gym required, so no commute required either!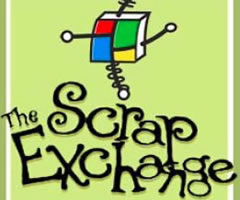 The Scrap Exchange
All returned bands are donated to The Scrap Exchange and reused for arts and crafts projects.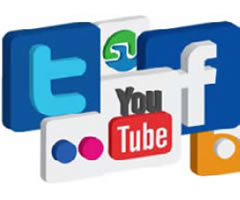 Marketing
We focus all our efforts on Internet marketing instead of print marketing. That way we can reach you without having to kill any trees!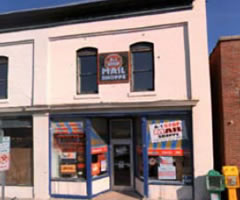 Recycling
All the boxes that we get the bands in before we send them to you are recycled by donating them to A-1 Mail Shoppe for repackaging.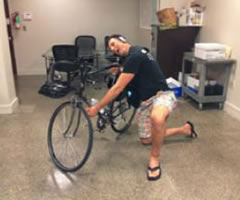 Minimal Commuting
We encourage working remotely, and when we do come in to the office, it's normally a commute via bicycle!


We are always looking for more ways to make our company green. Have some ideas? Contact us!