Superior Layered Design
Made to last through whatever intense workouts you can think of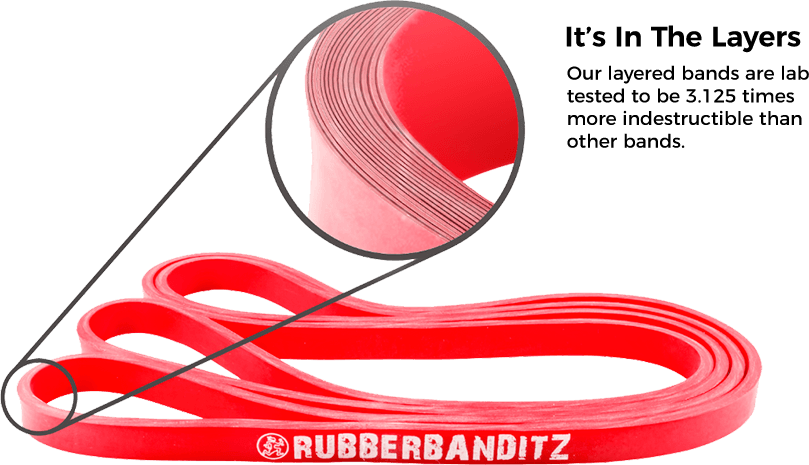 600+ How-To Videos

Lifetime Warranty
100% Satisfaction Guarantee

Free Shipping
On all US orders over $60

Snap Resistant Bands
Rugged layered design lasts longer
Individual Bands
Size and Use Cheat Sheet
Calisthenics Bands - Calisthenics Workout Equipment
The Bodyweight Training Equipment Multi-Tool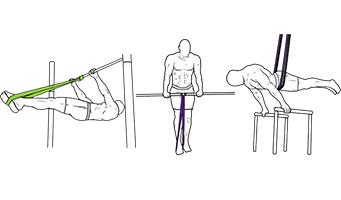 Calisthenics stems from ancient Greek words kalós,"beauty," and sthénos, "strength." This natural bodyweight training street workout builds functional strength, improves physique, and requires minimal calisthenics equipment.
Exercise bands are a valuable training tool that accelerates progressions by using elastic assistance to help offset your bodyweight when doing calisthenics and weight training.
Find out below how to use resistance calisthenics bands for exercises including: pull-ups, muscle-ups, front levers, back levers, planches, flags, and handstands. Incorporating daily calisthenics into your current work out regimen will help tremendously in building muscle and improving your physique. Best of all, you need very little calisthenics workout equipment in order to perform this workout method. You can even do calisthenics at home as long as you have the proper resistance bands and products. Get the body you've always wanted with the calisthenics workout plan.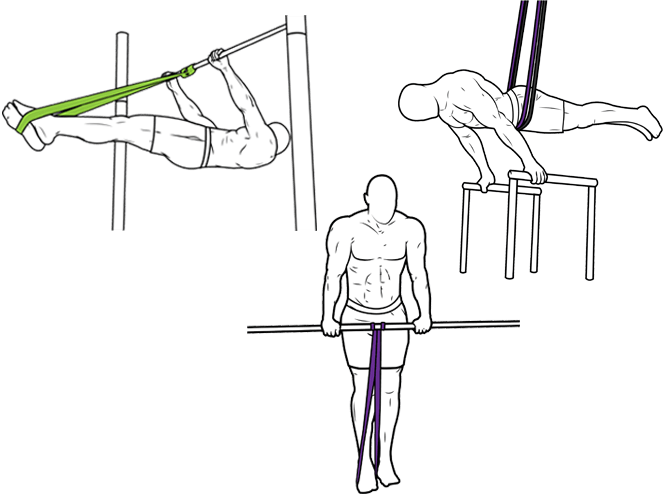 How to Use Calisthenics Weight Training Bands
This bodyweight training leverage exercise strengthens your entire upper body and core. Resistance bands are a valuable training tool for front levers as they allow for natural progressions in strength and calisthenics training variability.
Kickstart Your Calisthenics Game
Calisthenics equipment kits designed for all fitness levels
RubberBanditz offers a selection of resistance bands and accessories to scale any bodyweight training exercise. Whether you're a seasoned athlete looking for an edge or a newbie just starting out, these kits make it easy for you to mix and match exercise bands for a well-rounded workout.
Beginner calisthenics athletes or those looking for the basic building blocks.

Practical, portable, and affordable.

$69.95 $54.95

Passionate bodyweight training athletes looking for an extensive training platform

Offers a range of resistance to accelerate most calisthenics street workout progression training.

$89.95 $69.95

Gym owners, trainers, or serious calisthenics athletes needing the full range of resistance

The full stack with bands every size to stimulate and accommodate progress from rookie to phenom.

$155.95 $119.95
Tips For Using Different Sized Calisthenics Bands
Customize the amount of resistance needed for each exercise
Train smarter with different sized bands as you get stronger and try new progressions.

Start with the heavy band to increase you pull up count

Lead in with the robust band to boost explosive pullups

Scale up to the power band for assisted muscle ups
Do More Reps and Accelerate Strength Gains with Drop Sets.
Perform sets of any static or dynamic exercise in rapid succession. You'll want more assistance the more you fatigue.

Do as many reps as possible with a lighter resistance band

Switch to a heavier band for more assistance in the next set

Combine both resistance bands and eek out the last drop set
What our customers are saying
"I rarely buy calisthenics equipment, which is part of why I like it, but these bodyweight training bands are a necessity. I never would have gotten my muscle-up without them."