Superior Layered Design
Made to last through whatever intense workouts you can think of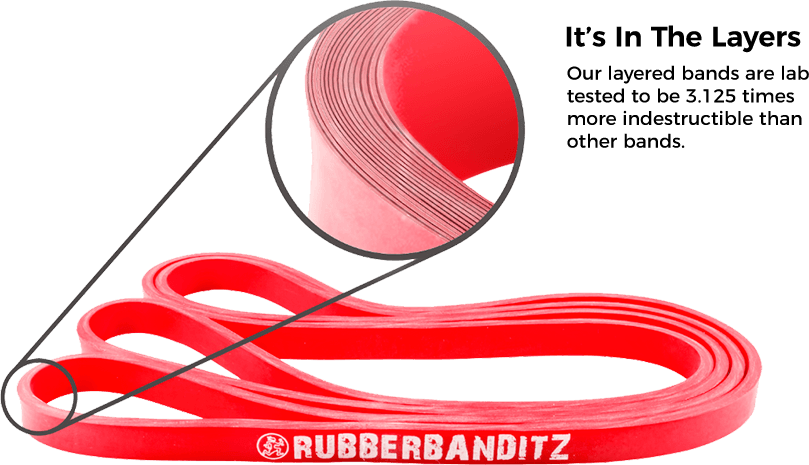 600+ How-To Videos

Lifetime Warranty
100% Satisfaction Guarantee

Free Shipping
On all US orders over $60

Snap Resistant Bands
Rugged layered design lasts longer
Individual Bands
Size and Use Cheat Sheet
$69.95

1.75" x 6' (45mm x 1.8m) with 50-100 lbs (23-45 kg). Increase ground force mobility and foot speed. Sprint, hop, backpedal, shuffle, bear crawl or slide as the speed band resists forward motion and builds power. Adaptable for all sports training drills.

Resistance Range

Ideal For

$89.95

2" x 10' (50mm x 3m) with 70-150 lbs (31-68 kg) this speed training band builds athletes from the ground up. Secure to any sturdy anchor or partner and feel the resistance of elastic drag. Popular for power drills where athletes explode up or forward.

Resistance Range

Ideal For
Speed Resistance Bands for Sprinting, Jumping, & Agility
Foot speed and mobility training with speed bands
Gain rapid-fire quickness and improve power and explosiveness using our 6' and 10' speed bands as a catalyst. Our agility enhancing run and sprint bands enhance ground force mobility and engage slow and fast twitch muscles fibers by adding resistance to forward motion.
Unlock training gains by adding ascending motion restriction with our speed resistance bands to nearly any agility and speed training regimen. Use our waist resistance bands to stimulate movement efficiency, improve reaction time, accelerate foot speed, enhance lateral quickness, and amplify vertical explosiveness. When incorporating ourspeed and agility resistance bandsinto your workout, you will be able to see a noticeable difference throughout your overall athletic performance and strength. Try adding a jump stretch band to your exercises today.
How to use Speed Bands to Improve Vertical and Lateral Explosiveness
Sprint faster, Jump Higher, and Increase Power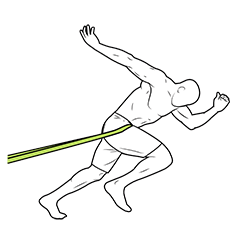 Sprinting:

Accelerate foot speed and reaction time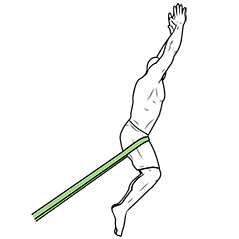 Jumping:

Enhance vertical leap speed and height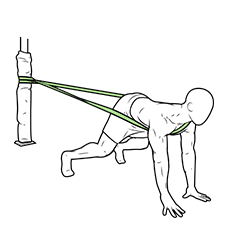 First Step Explosion:

Power off the line or starting blocks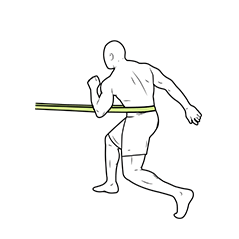 Footwork:

Improve lateral and horizontal agility
Rapid-Fire Results with Running Bands
Speed training band kits created for athletes of all levels
As running band pioneers, our speed bands have become popular for training drills from youth to pro athletes in sports including: track and field, basketball, football, volleyball, soccer, and baseball, and hockey. Below are our kit options that can be used interchangeably for any sport:
The speed training band basics for athletes of all ages, sizes, and abilities

6 ft + 41 in bands: Two different sizes offers two different options, with and without partners, for speed training. The 41" band is also useful for squats, lunges and stretching.

$89.95

Forceful training set for building speed, power, and explosive ground force mobility

6 ft + 10 ft bands: The dynamic sprinting band duo can tackle any power or agility drill, regardless if you are training quick burst, plyometrics, or stationary footwork.

$149.95

Full stack speed band series with enough options to power a small team

6 ft + 10 ft + 41 in bands: The full series offers enough equipment to share or structure high-intensity interval training circuits. Also ideal for elite athletes with diverse training regimens.

$169.95
What our customers are saying
"We used to used parachutes on the track to give us resistance back when I trained as a college athlete. Now that I'm several years out and just trying to stay in shape, I've found the big rubber running bands I bought from rubberbanditz are easy to bring with me outside and easy to use with my workout partner. She hates when I bring it out lol."