Superior Layered Design
Made to last through whatever intense workouts you can think of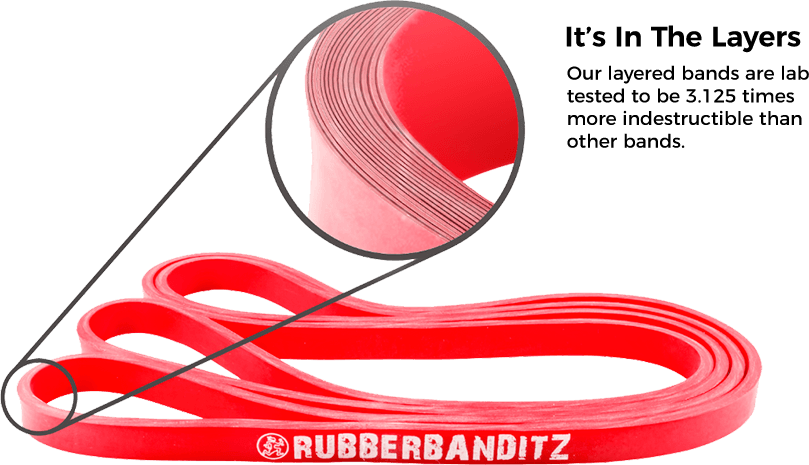 600+ How-To Videos

Lifetime Warranty
100% Satisfaction Guarantee

Free Shipping
On all US orders over $60

Snap Resistant Bands
Rugged layered design lasts longer
Individual Bands
Size and Use Cheat Sheet
Portable Resistance Training Band Kits
Take your gym with you anywhere with portable resistance exercise equipment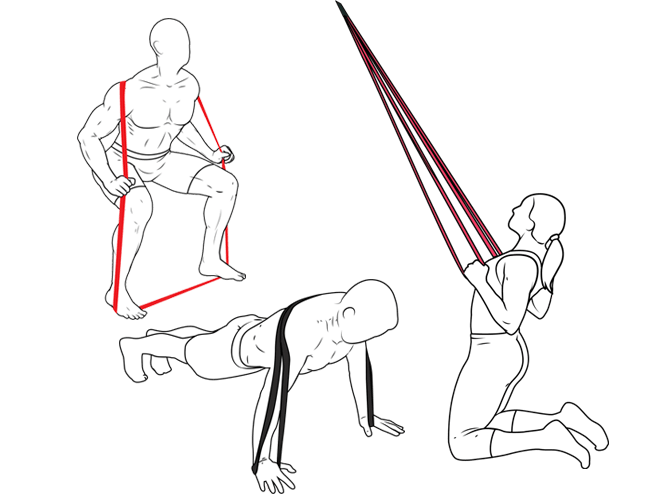 Make your gym as mobile as you arewith ourportable fitness equipment. Use our 41"travel resistancebands to simulate, supplement, or substitute a normal gym workout. The unique circular design of our bands, combined with the accompanying accessories creates veritable full body training platform.
Leverage the power of resistance to stretch, stabilize, and strengthen every major muscle group in your body. Whether you are looking forhome fitness equipmentorportable exercise equipment for on the go use, Rubberbanditz is your perfect solution.The bands have a broad spectrum of utility and can be used for both resistance training (ie pushing or pulling the bands) as well as assisted bodyweight training (ie assisted pullups).
Ourtravel exercise equipment is durable, compact, and versatile, making them the perfect addition to your home gym or carry on bag. Below is a overview showing several key ways to use your RubberBanditz.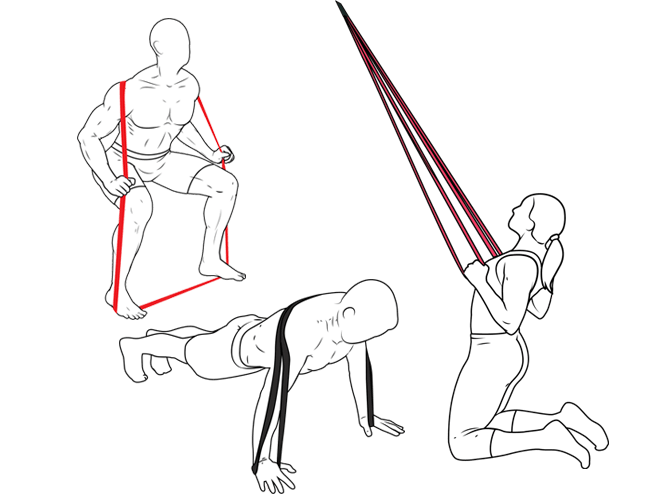 How Do I Use Resistance Bands for Mobile Fitness?
In a bent-over position with palms facing your body, pull yourself up with your core and raise your chest until you are in an upright position. Keep arms by your side and back straight. Slowly lower torso back to starting position by pulling your hips back and keeping your shoulders over your ankles. Tips: All body movement should originate by bending at...
Resistance Band Training Made Smarter
Locked and Loaded with Looped Exercise Band Sets
Each resistance band in our portable resistance training equipment sets are assembled to meet the comprehensive needs of a full body workout. Whether you're a seasoned athlete looking for a little boost or a newbie just starting out, these kits make it easy for you to mix and match bands together. You'll find it convenient to have a continuum of resistance levels since each band offers a different range of potential exercises, and each person has muscle groups that are stronger than others. *The RubberBanditz Mobile Gym Kits were born in the US Peace Corps as a way to bring your workout with you anywhere.
Ideal for youth and beginner fitness enthusiasts

Builds functional strength, stability, and flexibility. The lightweight profile makes it easy to transport and store anywhere for a resistance band home gym or on-the-go travel.

$44.95

Ideal for beginner-intermediate adults who need a range of light to heavy resistance

Basic Kit + the heavy band. Effectively strengthen every muscle group in the body and get a well-rounded workout

$59.95

Ideal for intermediate-advanced fitness enthusiasts looking for a full range of resistance

Standard Kit + robust band for max strength gain. Provides a fully self-contained functional training gym with assisted pullup functionality.

$74.95
Tips For Using Different Exercise Bands
Customize the resistance needed for each exercise
Chart your progress as you get stronger, or build variety into your workout, by combining bands to adjust the tension as needed

Start with a light or medium resistance band

Intensify by swapping out for a heavier resistance band

Combine both bands for maximum resistance
Calibrate the exact amount of resistance needed for each exercise
Think of each exercise band as a different fitness multi-tool in your toolkit.

Engage smaller muscles groups with low resistance

Target stronger muscle groups with more resistance

Challenge your strongest muscle groups with the most resistance
What our customers are saying
"These are the best exercise bands I've used. They give me an incredible strength training weapon I use to build explosiveness and power. They are one of the few accessories I take with me everywhere!"