Superior Layered Design
Made to last through whatever intense workouts you can think of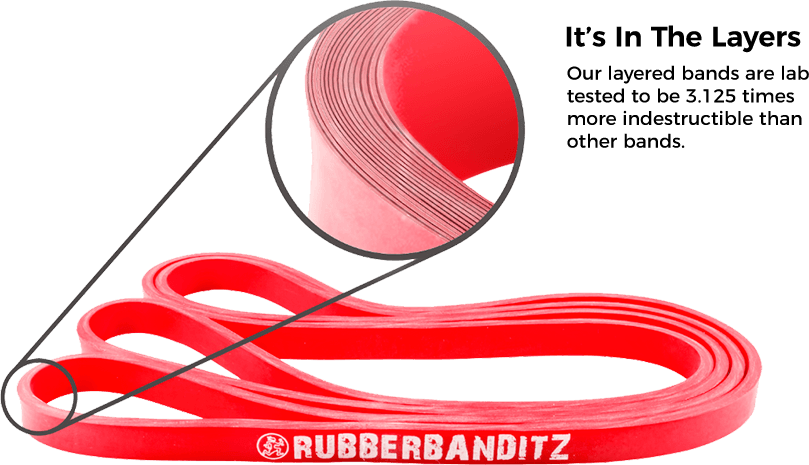 600+ How-To Videos

Lifetime Warranty
100% Satisfaction Guarantee

Free Shipping
On all US orders over $60

Snap Resistant Bands
Rugged layered design lasts longer
Individual Bands
Individual Bands
Individual Bands
Booty Bands: Resistance Bands for Glutes
Extra thick resistance loops for the ultimate booty band workout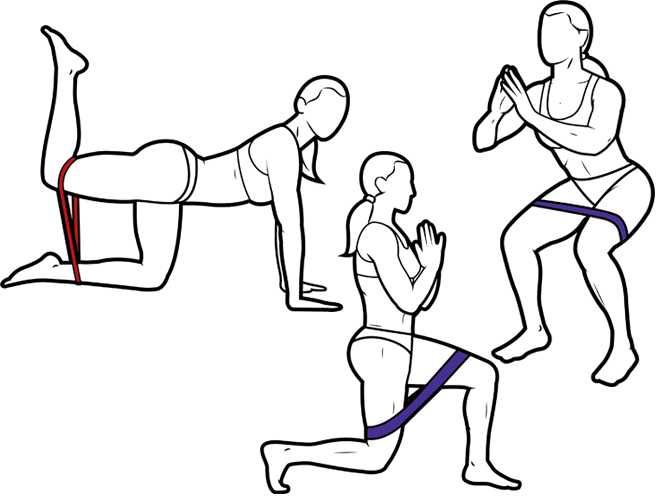 Our mini loop booty bands are crafted to stimulate total glute engagement for deep strength training and toning. Each of our mini loop bands are over 20 layers thick (different from most mini bands). This provides three distinct advantages:
More effective workout bands for legs: The noticeably heavier resistance dynamically activates hips, thighs, glutes, and legs.

Roll-up resistant: Thin loop bands tend to roll up causing discomfort when using resistance bands for leg workouts -- our loop bands don't.

Build to last: Because each mini band is layered, they pop less and are made to withstand even the most intense leg workouts
These resistance bands for glutestake your booty work out to the next level. Whether you are doing squats or lunges, you will be able to see a noticeable difference when doingbutt exercises with bands. Try ourmini stretch bandstoday to build muscle and strength.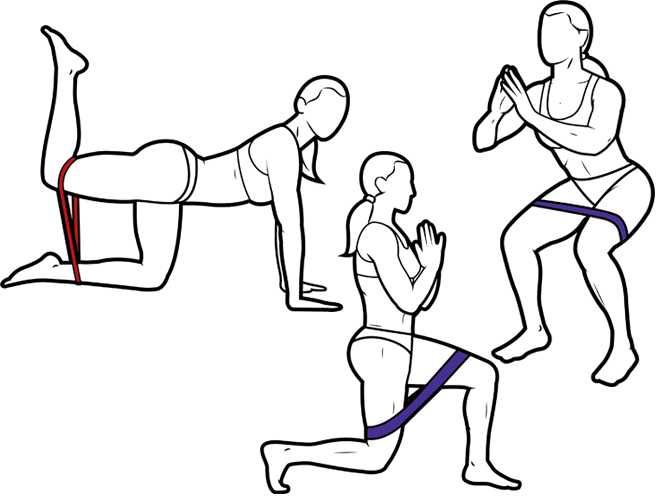 How do I Use Mini Loop Booty Resistance Bands
Sculpt your booty and train your fast twitch muscle fibers in one swift movement. Box jumps are a great way to improve explosive power while minimizing the risk of injury since the elevated surface helps dissipate the landing forces and puts less stress on your joints. Using mini loop bands helps deepen glute and leg activation, thus delivering greater results with each rep.
The Mini Loop Booty Band Solution
Resistance loop band toning combos designed for complete leg workouts
Our mini loop resistance band sets offer the complete range of resistance needed to get a full lower body workout in your home, hotel room or park. They are also popular for hip and knee injury prevention + rehab. Choose from these three loop band sets to improve strength and toning.
For those needing the quick and dirty lower body workout band essentials

Provides the basic building blocks strengthen and sculpt the lower body

$19.95

For intermediate level booty builders wanting a range of resistance practical for most exercises

Customize the resistance to target the entire legs, hips, and glutes region with precision

$24.95

For passionate fitness enthusiasts needing the full stack kit to build and tone the front and back

The full booty band training arsenal with every size to stimulate and accommodate progress.

$39.95
Tips For Using Different Mini Loop Booty Bands
Customize the resistance needed for each lower body exercise
Mark your progress as you get stronger, or build variety into your workout, by combing bands to modify the tension

Accelerate donkey kicks with the medium loop band

Progress to the heavy loop band for side slides

Scale up to the robust resistance band for lunges
Mark progress with heavier loop bands for leg workouts
You'll want less resistance as you fractured, but as you get stronger, you'll demand more

Begin with a lighter loop band for minimal resistance in your squats

Advance to a heavier squat bands as you get stronger

Combine multiple mini squat bands for maximum burn
What our customers are saying
"After using the mini resistance bands in my gym, I was inspired to buy a set. However, the first set I bought were not designed for skinny legs. They kept rolling-up on me when doing squats or side lunges. Thankfully I bought these, and unlike other loop bands, I've had nothing but a positive experience with them"
Copyright © 2023 Rubberbanditz, LLC. All rights reserved.