Superior Layered Design
Made to last through whatever intense workouts you can think of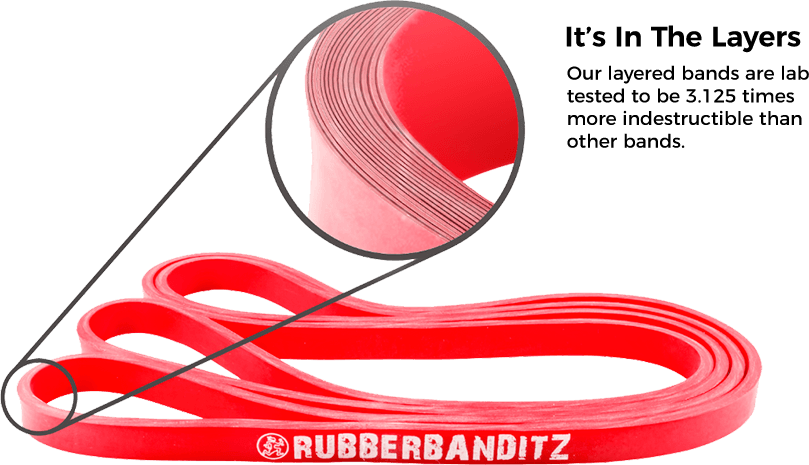 600+ How-To Videos

Lifetime Warranty
100% Satisfaction Guarantee

Free Shipping
On all US orders over $60

Snap Resistant Bands
Rugged layered design lasts longer
Individual Bands
Augment your kit with an individual resistance band
Powerlifting Resistance Bands for Building Strength
Stretching Weight Lifting Limits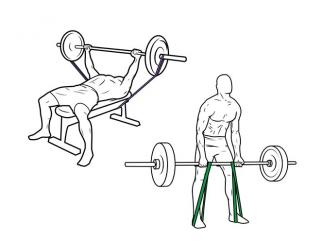 Resistance Bands for Building Strength
Weight lifting resistance bands are a practical exercise accessory because of the way they naturally complement your muscle contractions. As your muscles contract and exert more force, the strength bands stretch further and offer an ascending resistance that gradually increases through your range of motion -- a symbiotic relationship unachievable by the force of gravity.
The weight lifting band's tension engages target muscle groups while also forcing you to stabilize your core, allowing for optimal strengthening efficiency in your powerlifting equipment. Strength training with bands amplifies results while placing minimal stress on your joints.
Supercharge your strength-training exercises by adding elastic load with workout bands to intensify: squats, deadlifts, shrugs, bench press, and shoulder press. You can target any muscle group with our powerlifting bands. Best of all, these lifting bands come in a variety of resistance levels, so you can continuously challenge yourself as you gain muscle. For your next gym session, try strength training with bands to see how they can improve your workout.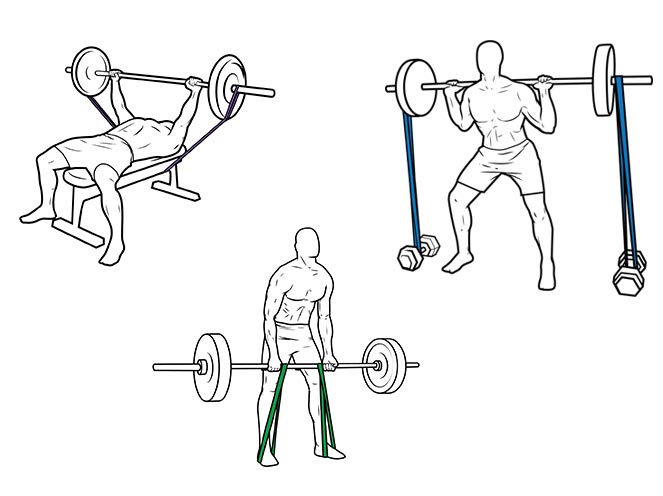 How Do I Use Powerlifting Resistance Bands?
The bench press is arguably the most impressive testaments of strength. It's a complex exercise that boosts upper-body muscle hypertrophy. Powerlifting bands provide the perfect training compliment. They help you through your sticking point at the bottom, then get incrementally heavier as you push and generate more force.
Supercharge Weight Training with Bands
Powerlifting band kits designed for all strength levels
RubberBanditz offers a selection of workout bands to fully equip you in the gym. Whether you're a seasoned athlete looking for an edge or a newbie just starting out, these resistance band sets make it easy for you to mix and match bands to customize the amount of tension needed. For most powerlifting exercises it's best to have a pair of resistance bands in order to make sure the tension is the same on both sides of the bar.
Beginner powerlifters or those who need light ascending elastic resistance

Portable, affordable and offers the basics for most lifts

$49.99

Intermediate-advanced athletes looking for an extensive training platform

Offers a range of resistance capable of accelerating hypertrophy (muscle growth)

$99.95

Advanced athletes in need of the full range of resistance to scale any exercise

A comprehensive full stack set to scale any lift up or down for drop sets, pyramids, and isometrics

$179.95
Tips For Using Different Sized Powerlifting Bands
Combine Your Bands For a Wider Range of Resistance
Mark your progress as you get stronger with heavier duty bands or do burnout sets and decrease the amount of tension as you fatigue.

Start with just one lower resistance band on each side for banded squats

Upgrade to heavier resistance band set as you get stronger

Progress further and use both [or multiple] pairs of powerlifting bands
Customize Your Workout Band Configuration
Calibrate the exact amount of resistance needed using each exercise band

Wrap one 41" band around the bottom of the bench press

Use two 41" bands for doubled banded bench press

Use two 12" bands to suspended kettlebells (builds core stability)
What our customers are saying
"These are the best exercise bands I've used. They give me an incredible strength training weapon I use to build explosiveness and power. They are one of the few accessories I take with me everywhere!"