There isn't always time to complete a full workout.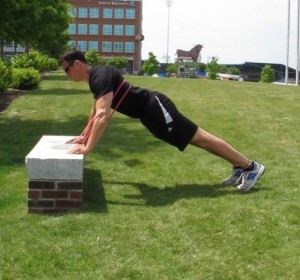 During those days, it's easy to say "10 minutes isn't enough time to do anything" and promise you'll hit the gym another day. Get rid of that attitude, every minute counts! If you don't have time for a full workout, take advantage of the super exercise:  the push-up.
Push-ups work your deltoids, triceps, and pectoralis muscles. Not bad for one exercise, is it? So if you're short on time, do a couple of sets of push-ups.
Tips for completing a great push- up:
Keep body as straight as possible during the exercise (including head)
Do not lock arms out at the top to avoid excessive stress on the elbows
Do negative reps by slowing down the regression and speeding up the push-up to exhaust chest and back muscles
Instructional Video:
Check out this great video on how to complete a push-up. The video also includes several variations to mix things up and keep your quick and easy workout from becoming boring. Ari even shows you how to use your bands to take your push-up to the next level.
Don't let lack of time be a reason not to workout. Everyone can find ten or fifteen minutes.