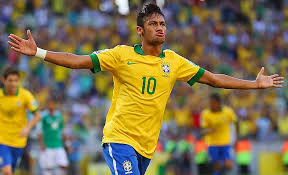 Neymar- Brazil's hero.
Jump higher to propel yourself up like Brazil's Neymar and Holland's Robin Van Persie.
Two of the world's greatest player's Neymar and Robin Van Persie have graced us with some brilliant play and athleticism at the World Cup. Two moment that come to mind are Neymar's header versus Mexico and Robin Van Persie's flying header against Spain. Both moments had a common characteristic, they both involved great leaps.
Neymar's header came from a huge vertical jump which allowed him to beat the defender to the ball. He then directs the ball perfectly towards the corner with a delicate header. Unfortunately for Neymar, the goalkeeper's efforts were equally impressive. Ochoa saw the header coming and dived full stretch to his right side to palm the ball away and prevent it from flying into the corner of the net.
Van Persie's headed goal was a moment of inspiration. A long ball was played over the top and he lept, like a salmon, to propel the ball into the back of the net.
How could one go about developing this kind of athletic capability?
Rubberbanditz resistance bands offer a valuable tool in the kit to help you jump higher by providing extra resistance to your jump movements. They can also be used practically anywhere.
To jump higher and more explosively have a go at these workouts:
Brazil and Holland have both qualified for the final 16 of the World Cup competition and both teams have a chance of winning the World Cup competition. Expect to see more goal bound efforts (and goals) from Brazil's Neymar and Holland's Robin Van Persie. Brazil play Columbia on Friday July 4th at 16.00 EST and Holland play Costa Rica on July 5th at 16.00 EST
Start working on that vertical jump with Rubberbanditz mobile gym kits. The perfect workout solution, anywhere, anytime.