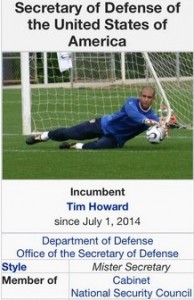 Tim Howard: the new Secretary of Defense?
We can't talk about heroic world cup goalkeepers without briefly mentioning the USA's very own Tim Howard. Against Belgium he performed so well that someone updated his Wikipedia page saying he was the new Secretary of Defence of the United States of America. In fact, Tim Howard's sixteen saves against Belgium was the most in any international match since records began in 1966. He was deservedly awarded man of the match for his heroics. After the game Howard said modestly "That's what I signed up to do".
More heroic world cup goalkeepers were on show as Holland beat Costa Rica on penalties to reach the semi-final of the World Cup.
The game was a chess match. There were many patient, controlled passes with Holland occasionally breaking through the tough Costa Rica defense. At these moments Costa Rica goalkeeper Keylor Navas had to pull off some top class saves to stop Holland. In the 21st minute Navas was called to action for the first time. Holland advanced down the right side and crossed the ball. Star player Robin Van Persie's shot was saved by a flying Keylor Navas. He also saved the rebound. Later Navas faced a bending free kick from Holland. Wesley Sneijder curled the ball towards the top left hand corner but Navas graciously leaped to palm away to goal bound strike. As the game went on Navas made two more brilliant saves. One could have forgiven him for thinking it was his day. Sadly for him, the Dutch had other ideas. After extra time it was still 0-0 and the game proceeded to penalties.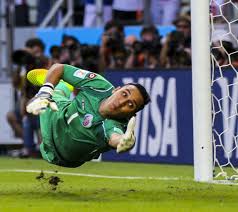 A flying Keylor Navas
Seconds before extra time ended Holland manager Louis Van Gaal made a very odd decision. He replaced his goalkeeper. Tim Krul was put on instead of first choice Jasper Cillessen, specifically for the penalty shootout. When asked, Van Gaal said:
"We thought it through. Every player has certain skills and qualities and they don't always coincide. We felt Tim would be the most appropriate keeper to save penalties. You would have seen that Tim dived to the right corner twice. We're a tiny bit proud this trick has helped us through."
There are several reasons why Van Gaal may have thought Tim Krul was the man for the job. At 6 foot 4 inches Krul is two inches taller than Cillesson so he occupies more of the goal. This means there is a bigger chance of the ball being saved by Krul's large frame. Further, having a goalkeeper focus only on penalties allows him to study the penalty takers in great depth. Its likely Krul knew how often each play shot in each direction. He may have studied their run ups to see if it effected the direction of their shot.
However, if one looks at Tim Krul's penalty record it still seems surprising that he was put in goal. Krul plays club football for English Premier League team Newcastle United. At Newcastle, Krul has faced twenty penalties and saved only two. That's a return of 10% which hardly makes him a penalty saving expert. Further, its likely Tim Krul felt immense pressure, coming on for the specific task of saving penalties. This could have put him off but clearly didn't in the end. In an interview after the game Krul said "I definitely got in their (the penalty takers) minds." This suggests that Krul had the mental edge over the penalty takers.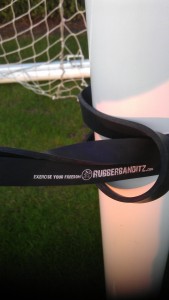 The decision to change goalkeepers was always going to be hailed as a stroke of genius or a terrible decision. In the end Tim Krul saved two out of five penalties. Both times Krul saved diving athletically to his left. Holland now progress to the semi-final of the World Cup. Perhaps Van Gaal is after all, a genius. Clearly Tim Krul has nerves of steel.
This game wasn't the only one with fantastic goal keeping. Weak defending and great attacking play during this competition has forced many fine saves from the goal keepers.
Thanks for reading, stay tuned for further updates. The next World Cup games are the semi-finals. On Tuesday July 8th at 4pm EST Brazil face the Germany and on Wednesday July 9th at 4pm Holland take on Argentina. Can the European soccer powerhouses prevail against the South American's?
In the meantime, take inspiration from the World Cup hero's and get fit for Soccer.
Rubberbanditz produce mobile gym kits that allow you to work out anytime, anywhere. Why not hook one up to a goalpost and start working out?