You don't need to have a crisis to realize the importance of a heart-healthy diet. Working easy and delicious meals into your week can bring you lasting benefits – experts say it can reduce your risk of heart disease by 80 percent.
Sometimes it can seem difficult to keep the flavor while getting rid of the butter and salt, but I have one recipe that will make you forget why you picked it in the first place.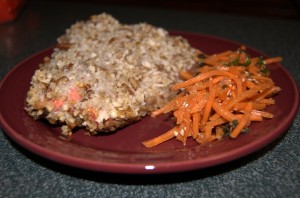 Pair this pecan-crusted salmon with Smitten Kitchen's carrot salad and a wheat baguette to complete your meal.
Pecan-Crusted Baked Salmon
Ingredients:
½ cup honey
½ cup Dijon mustard
1-3 tbsp. olive oil, as needed to thin glaze
Juice of 1 lemon
2 ½ cups pecans, finely chopped
2 cups Panko breadcrumbs
Salt and pepper.
2 lb. salmon fillets, boned

Directions:
Preheat oven to 400 F.
Mix together honey, mustard, lemon juice and olive oil in a wide bowl (you will dip the salmon in the glaze). Use only enough olive oil to keep the glaze from getting to thick. Mix together chopped pecans, Panko breadcrumbs, and a pinch or two of salt and pepper in a wide bowl (you will dip the salmon in the mix). Dip each fillet into honey mustard mixture until completely covered. Dip in pecan and breadcrumb mixture. Place in baking dish. Add some of the remaining honey mustard dip to the pecan and breadcrumbs and mix until the pecans and breadcrumbs start to stick together (you want enough to get the honey mustard flavor mixed in). Spread the remaining mixture over the fillets. Bake for 15-20 minutes, until flaky.
Recipe adapted from BetterRecipes.com
Carrot Salad with Harissa, Feta and Mint
3/4 pound carrots, peeled, trimmed and coarsely grated
4 tablespoons olive oil
1 crushed clove of garlic
1/2 teaspoon caraway seeds or about half as much, ground (I used seeds but ground them first)
3/4 teaspoon cumin seeds or about half as much, ground (I used the seed but ground them first, again)
1/2 teaspoon paprika
3/4 teaspoon harissa (for a solid kick of heat; adjust yours to taste, and to the heat level of your harissa)
1/2 teaspoon sugar
Juice of ½ lemon
2 tablespoons flat leaf parsley, finely chopped
2 tablespoons fresh mint, finely chopped
100 grams feta, crumbled or chopped into bits
Directions:
In a small sauté pan over medium heat, cook the garlic, caraway, cumin, paprika, harissa and sugar in the oil until fragrant, about one to two minutes. Remove from heat and add the lemon juice and a pinch of salt. Pour over the carrots and mix. Add the herbs and feta and mix.
Recipe adapted from Smitten Kitchen.