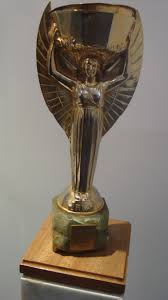 Jules Rimet trophy: missing since 1983
The World Cup came from humble beginnings and has had an interesting journey throughout history. The first competition took place in 1930 and included only 13 teams. Seven from South America, four from Europe and two from North America. Uruguay hosted and won this competition.
Teams were not so forthcoming to the first competition. French national coach, Gaston Barreu, refused to make the trip to Uruguay as it was too far and dangerous. The rest of the team came without him. At the time most players also had 2nd jobs. The Romanian national team had to negotiate for players to still have jobs when they returned from the competition.
Since 1930 a tournament has been hosted every four years. Except for a break in years 1938 and 1942 due to the world war. The 2014 World Cup will be the 20th competition.
This is the second competition to be hosted in Brazil. They also hosted in 1950. The tournament final saw Brazil play Uruguay and lose 2-1 in front of a record crowd of 199,584 people. The highest ever attendance at a soccer match.
In 1966 the World Cup trophy, then called Jules Rimet trophy, was stolen while in England in a public exhibition. However, luckily it was later discovered, buried under a tree in South London. History says that the trophy was discovered by a dog named Pickles. Don't believe me? Check here.
In 1983 the Soccer World Cup trophy was stolen for a second time while in Rio de Janeiro. After winning their 3rd World Cup, Brazil had earned the right to keep the trophy. However, thieves from Rio de Janeiro took the trophy and apparently melted it down. The Brazilian's ordered a new replica to be made, which is the current trophy today.
In World Cup history the competition has been won by only eight different countries. Brazil is the most successful.
World Cup Wins
| Country | Number Of Championships (Year) |
| --- | --- |
| Brazil | 5 (1958, 1962, 1970, 1994, 2002) |
| Italy | 4 (1934, 1938, 1982, 2006) |
| Germany | 3 (1954, 1974, 1990) |
| Argentina | 2 (1978, 1986) |
| Uruguay | 2 (1930, 1950) |
| France | 1 (1998) |
| England | 1 (1966) |
| Spain | 1 (2010) |
This year's World Cup is the first ever where goal line technology will be used. Up to now it has been left to the referee's judgement to determine whether the ball crosses the line. This has been subject to much controversy. In the 2010 World Cup last sixteen game Germany knocked England out of the competition in a 4-1 win. However, England's Frank Lampard had a goal disallowed by the referee which clearly crossed the line. The disallowed goal would have tied the game at 2 - 2 just before half time.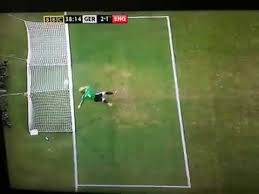 England's goal against Germany disallowed. Time for goal line technology?
For more information on the history of the World Cup see: http://www.fifa.com/classicfootball/history/fifa/first-fifa-world-cup.html
http://www.fifa.com/classicfootball/history/fifa-world-cup/jules-rimet-cup.html
Follow the Rubberbanditz Soccer coverage on our soccer page