We have a guest blogger this week! Kelly Robins enjoys reading, traveling, writing, and is currently pursuing her career in writing. She is currently a part-time staff writer for a travel insurance site that gives travel advice and insurance quotes.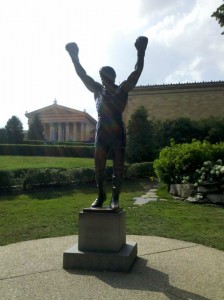 Take the stairs. Who knows, it might just lead to a title fight with Apollo Creed
Business trips are notoriously bad for your health. You're often sitting for hours during travel and meetings and the food is whatever you can grab from fast food restaurants -- the hotel's breakfast offerings or fancy dinners out. You're often booked solid, and it's tough to find time for a long workout. But whether you want to offset those unhealthy meals or just keep from being too sedentary, here are some ways to stay fit on your trip.
Start with the little changes. Take the stairs instead of the elevator. Before you go, look at a map of the area in which you'll be staying and working. If your hotel and work site are within a mile of each other, and there are sidewalks or walkways, you can schedule in the time to walk instead of driving to work. Some cities also have bike rentals that you could use. Taking the bus might be better for your suit and professional look, but you'll still get in a short walk from the bus stops to your destination.
Try to stay in a hotel that offers a workout room. Often, hotel workout rooms are simple affairs, so don't expect much. Usually there will be a few cardio machines, some weight lifting machines and a television. Explore the room so that when you do have time, you can start a workout right away without trying to figure out how to turn on the machines. There's nothing more demotivating than showing up to work out and finding broken machines. Ask the desk clerk about busy or slow times for the room so that you can be sure to snag the machine you want.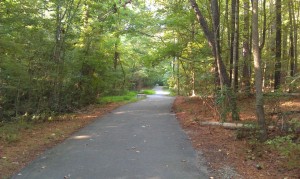 Find area walk ways to add a touch of beauty to your morning commute
If your hotel doesn't have workout amenities, look into local gyms. Some national chains will let you use their facilities if you have a membership back home. You can also usually get a single day guest pass at a gym if you express interest in signing up. You'll have access to all of the machines as well as showers and, often, towel service.
Control your expectations. If your days are busy, don't beat yourself up if you don't get in a solid hour of working out. It's all too easy to give up when you can't reach your goals. Even ten minutes a day will have benefits. Add microworkouts to your free moments: Do ten pushups or ten crunches if possible. With fitness, every little bit helps. Often, taking advantage of small breaks will add up to a better daily workout than if you force yourself to commit to one long chunk of time.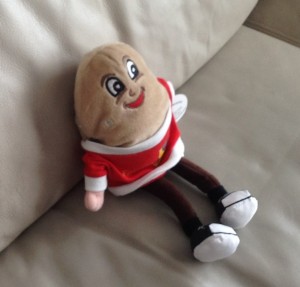 Don't be a couch potato on your next business trip. Get out there!
Schedule concrete workout times planned around your day and travel habits. If you have trouble getting up in the morning, schedule a workout then to increase alertness. If you have trouble sleeping because of jet lag, workout in the early evening, and you'll find yourself more tired when you hit the hay. Make sure to add more time than you think you need after a workout to prepare for any meetings or events that you may need to attend.
Business trips don't have to turn you into a couch potato. Working out will relieve stress and help your body adjust to travel. Take the time to plan ahead, and it'll be a piece of cake to stay healthy and fit on your business trips.