Assisted Pull Up Bands
We'll get you over the bar
Pull ups can engage and strengthen your entire upper body through the simple motion of pulling yourself over a bar. They aren't easy though! So we've put together this page to show you how to use our bands to get you there. Before you know it, you'll be a pull up machine!
How Do I Use Pull up Bands?
The best way to get better at pull-ups is to do assisted pull-ups. Here is how with our bands: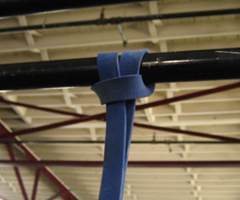 Step 1
Loop a band over the pull up bar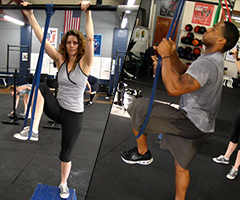 Step 2
Place a foot or knee in the band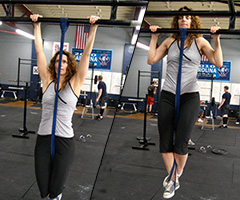 Step 3
Complete Pull ups as normal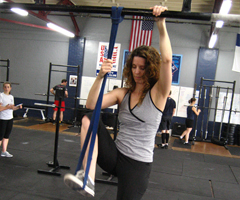 Step 4
Step down carefully and release yourself from the bar. Step one foot out first to avoid snap backs.
Which Band is Best for Me?
The most common question we get at Rubberbanditz is "which band is right for me?" All you need to know is your weight. Once you find your band combo, click on it to see the item in our store.
< 140lbs

140lbs – 250lbs

250lbs – 300lbs

300 lbs+
Why Two Bands Instead of One?
As you get stronger you'll need to lower the assistance to account for your new strength. For example a robust (purple) combined with a heavy (black) band, offers roughly the same amount of resistance as the power (green) band, but the combination gives you three different levels of assistance (one with the heavy band, one with robust, and one with both bands).
This also allows you to do drop sets – i.e. doing a set with just the robust band until you can't do any more reps and then adding the heavy band to eek out a few more to maximize your energy.
Customer Testimonials
Here is what some of our customers have said about us. For more, check out our Testimonial Page.
"I recently received my bands, and was astounded to find out I could actually do pull-ups with them! Of course, eventually I hope to be able to pull up without the bands, but for now I am absolutely thrilled."
"Brand new to Rubberbanditz I have been able to accomplish my assisted pull ups and become better at them. Great piece of equipment."
"Rubberbanditz helps me a lot with my training. I use it specially for my pull ups."
"I bought a power band to help me do pull-ups. I have seen some results(a little at a time) and still am progressing! I'm beginning to see what I like!"