Exercise FAQ
Just starting with your bands?
If you're just starting out with bands, or looking for ways to workout smarter, you're in the right place! If you have any questions or suggestions for other tips and ideas, please feel free to contact us at (888) 878-2464 or by mail at [email protected]. We'd love to hear from you.
Table of Contents
Exercise Questions
Product Return Questions
Questions about our Business
About the Bands
Shipping Questions:
Which band is right for me?
We were asked this so much that we created a page specifically for it. Check out the Which Band is right for me page
How do I raise and lower the resistance?
Towards the beginning, you may find it frustrating as you try to figure out how to position the bands and yourself in a way that is both comfortable and provides the right amount of resistance. Don't get frustrated, with experience comes the ease of resistance maneuverability. There are several ways to adjust the resistance in order to meet your personal needs: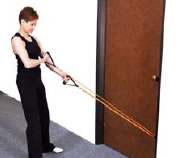 Distance from the Anchor Point
As a rule of thumb, the farther you position yourself from the anchor point, the more resistance you will impose on the bands. The closer you position yourself, the less resistance you will impose on the bands.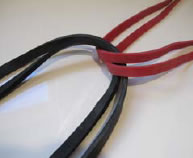 Interlock at Midpoint
If you find that your post is too thick or high for your intended use, you can easily link two bands together by crossing them at their midpoints, so that you are left with a new anchor point and a lower overall resistance.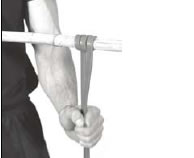 Looping
Another option to raise the band's resistance is to reduce the band´s length. Try looping the band around your foot, bar, or post to shorten the length of the band.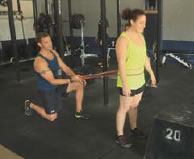 Doubling Up
If using one band provides you with a comfortable range of motion but is obviously too easy, add another band.
Attachments
You always have different alternatives to choose from in how you perform each exercise. Grip attachments will change the feel of each lift. Inserting a bar will balance the resistance on both hands and looping the band around the bar will increase the resistance of the lift. Handgrips and ankle straps will alleviate tension on your hands and feet while lengthening your distance from the anchor point, effectively lowering the overall resistance. The door strap can be used to perform virtually any workout with most doors.
What are some general tips to get me started?
Start with a low resistance to acquaint yourself with the exercise and allow for adequate adaptation.
Begin each set with the bands lightly stretched, providing minimal resistance. In order to maintain constant resistance for an optimal workout, do not release any repetition past this point of minimal resistance until your set is complete.
Don't completely lock out your joints to prevent unnecessary strain or pressure.
Try to keep your body still with your abdominal muscles and restrict all movement to the target muscle group during an exercise.
Keep your wrists straight to avoid placing tension in the wrong areas.
To verify that your wrists remain straight, you shouldn't see any wrinkles on your wrists from bending your hand.
Keep your weight centered over your feet and your head centered over your shoulders. Monitor yourself to verify that you are never leaning too far over your feet.
Adjusting the anchor point height will shift the resistance.
Always try to add at least one more repetition (with good form) or a little more resistance to continually challenge yourself. Prove to yourself that you are getting stronger!
Pay close attention to your tempo to control your workout time and encourage proper form. Your tempo will greatly affect your rep count and your workout intensity.
If at any point during your workout you begin to feel fatigued, dizzy, or have physical discomfort, you should stop immediately and consult a physician. Individuals
What is the warranty?
Your satisfaction is so important to us that we decided to put our bands where our mouth is:
If any band breaks within a year, we'll send you a new one for free. Note: the bands will peel a little with use so don't worry if one of the strips starts to unravel. The bands are made through a layering process for added durability so the layers may begin to separate over time but should never break.
If you are unhappy with the bands, you have two months to send them back for a refund – no questions asked. Returned packages must be postmarked within 60 days of the confirmed date of delivery and must include the original order number. There is a 15% restocking fee for all returned items that are opened since we can't resell them.
Where/How do I return the bands?
OE Enterprises
c/o Rubberbanditz Returns
717 North Park Avenue
Burlington, NC 27217
Please also include a note explaining what action you would like us to take and a proof of purchase (confirmation email is fine).
How long should the bands last?
This depends on several variables:
How often you use the bands
how hard you use them
how far you regularly stretch them
which size band you are talking about.
Under normal conditions, which we estimate as an hour workout three times a week with medium intensity, the lighter bands (Light, Medium, Heavy) should last around a 1-2 years. Our wider bands (Robust, Power, Strong, Monster) should last at least 2-3 years under the same conditions. With that said we have several demo bands that are over three years old and are still in great shape.
How do I become a distributor?
Are you a retailer looking for the hottest emerging mobile exercise product?
Are you a certified personal trainer (CPT) who is interested in offering in-home training sessions?
Are you a group facilitator/ leader/ coach/ counselor who can use our bands to promote personal fitness?
Do you want to help contribute to a worldwide RUBBERLUTION?
We'd love to work with you to distribute Rubberbanditz product. Here are our policies:
All resellers must have a brick and mortar store, gym, and/or an online shopping cart. (Please email your website if applicable)
In order to obtain the discount, the first order must be at least $500
Currently, we are not accepting terms for new customers, all new accounts are set up as credit card only.
You may not advertise our products below our retail price, nor may you advertise calling in for special pricing.
You must create your own product profiles (images and descriptions) for online sales.
If you agree to these terms, send an email to [email protected] letting us know you're interest and we'll send you a new distributor form to fill out so we can proceed.
How do I become an affiliate?
Our program is free to join, it's easy to sign-up and requires no technical knowledge. Affiliate programs are common throughout the Internet and offer website owners an additional way to profit from their websites. Affiliates generate traffic and sales for commercial websites and in return receive a commission payment.To Start go to https://www.rubberbanditz.com/idevaffiliate/signup.php and fill out the form. Then shoot us an email at [email protected] to let us know! Once we approve you, you can start using the affiliate link or banner of your choice on your own site!
Do you offer bulk discounts?
Yes, just contact [email protected] with the quantity you are interested in purchasing and we'll let you know the discount we can offer!
Do you offer military discounts?
Yes we do! please contact us with your information and we'll be happy to help all of our active military.
What are your hours?
You can order online or send us an email 24 hours a day, 7 days a week and we will respond to you within 48 hours. We have live phone operators 9 am – 5 pm EST Monday-Friday at 888-878-2464.
Why is my band a different color than the one online?
We periodically change band colors in order to respond to our customers demands. Please let us know if you want to exchange your bands for a different color and we will do the best we can to accommodate.
What size are the bands?
The majority of our bands are currently 41" when they are laid flat, we also offer 6' Agility and 10' Explosive for more mobility during sprinting and agility drills. To give you a better idea we've listed each band with its length and width.
| | | | |
| --- | --- | --- | --- |
| Exercise bands | Lay Flat Length | Width | Resistance |
| Light | 41? | 1/4? | 5 to 15 |
| Medium | 41? | 1/2? | 20 to 35 |
| Heavy | 41? | 3/4? | 30 to 50 |
| Robust | 41? | 1-1/8? | 40 to 80 |
| Power | 41? | 1-3/4? | 50 to 120 |
| Strong | 41? | 2-1/2? | 60 to 150 |
| Monster | 41? | 4? | 80 to 200 |
| Agility | 6? | 1-3/4? | 175 to 225 |
| Explosive | 10? | 2? | 225 to 275 |
Are the bands safe for people with latex allergies?
Our natural rubber latex is over 99.998% free of soluble proteins (latex allergens). Effects of use by people with latex sensitivity is unknown and not recommended.
What can I do for maintenance on my bands?
Almost nothing! Just keep them out of direct sunlight for extended periods of time; don't stretch them more than 2.5 times their original length, and don't let them come in contact with rough surfaces (i.e. asphalt, sharp posts, children with scissors)
How far can the bands stretch?
They can safely be stretched up to 2.5 times their original length without causing any harm on the band. Though they will stretch further, we don't recommend you do this as a safety and durability precaution.
How can I track my order?
Once your order has shipped, an e-mail with tracking information will be sent to the e-mail address you provided. If for some reason you do not receive an e-mail, please contact us at [email protected] and we'll be more than happy to help you track your order!
How long will the order take to ship?
We ship all of our orders from our warehouse in Burlington, NC. For orders with in the states (not including Hawaii and Alaska) once the gear is shipped it is usually 3-5 business days. International Shipments will typically take 10-15 business days.
Do you ship to international or APO addresses?
Absolutely! You should be able to do this through our online store, but if you have any trouble at all shoot an email over to [email protected], and include the list of equipment you are looking to get and the address it will be shipped to and we will get a quote right back to you!
Where are my Bands?
Typically we estimate that the shipments can take anywhere from 3-5 business days within the US and between 10-15 business days internationally.
If it has been more than that, your best bet is to contact your local post office with your tracking number and see if there was some issue with your order. If the post office can't find anything, let us know and we'll dig a little deeper to find out what happened.
Our first priority is that you are a happy customer and that you get your bands quickly!