As you've all probably noticed by now, the website got a HUGE overhaul! Its been months in the making, and there were a bunch of people involved to get it done. I just wanted to take the chance to introduce you to all the new features. So here we go: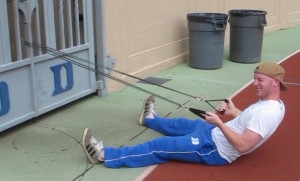 Jeff Nash, great intern, terrible taste in football teams
First, the awesome new design, courtesy of our summer intern and design master Jeff Nash. Jeff went through many iterations before finally getting to one that we were all happy with. And we're hoping he designs many more cool things down the road in his career.
The next thing you'll notice is we've started selling bunch of new products. We know that you have many needs when it comes to staying fit while you're mobile, so we brought in easy to set up products that we felt fit very well with the bands. The new products are Gym Rings, Pull up Bars (Basic and Advanced), Jump Ropes, Back Pads, Slam Balls, Wall Balls, and Battle Ropes. If you have the time, follow the links and check them out!
Just some of our new products
Really the biggest addition to our website (and my personal pride and joy) is the Info Center. On the old site this was just a single page called the exercise library, but we've expanded it to be fully searchable, we added new exercises, the design is much better, and we even give you an idea of the best products to use with the each exercise! for example, check out our Push up Press page or our Squat page. Don't see an exercise that you think we should have? let us know at [email protected].
I hope you like the new page, but we're still working some bugs out of it, so if you encounter anything that doesnt seem right, please let us know! We want to make sure its the best it can possibly be!