Many physical attributes are required to be successful in soccer. In this post we look into upper body strength in soccer. Players use strength in many different ways. When attacking, players shield the ball from defenders keeping the ball up for their team, they jostle and win headers in the box. When defending, players use their strength to beat opposition to aerial challenges and to get ahead of the attackers and win tackles. Upper body strength is useful in generating force in sprinting at speed too.
Strength at this year's World Cup
Hulk, Brazil
Fast players can often use their upper body strength to their advantage. Below (left), Brazilian star player Hulk accelerates past a defender. The defender attempts to drag him back but Hulk gets his body between the defender and the ball and accelerates forward. Below right, the Brazilian shows why his nickname is "Hulk".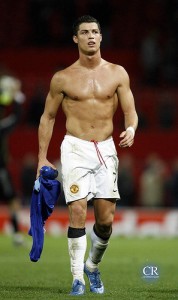 Christiano Ronaldo: strong upper body
Another player who possesses great strength at this year's World Cup is Christiano Ronaldo. His combination of strength, speed, agility and power makes him one of the greatest athletes in the game.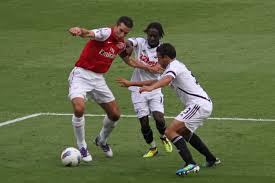 Van Persie (Holland)
Robin Van Persie, Holland, leans into the defender, keeping the ball on the other side of his body and using his left arm to keep the defender away from the ball
Belgium-the strongest team at the World Cup?
Many Belgian players are physically very strong. Central defenders, Vincent Kompany and Thomas Vermaelen, are excellent physical specimens. Kompany often uses his strength to hold defenders off and win headers in the box. Strikers, Romelu Lukaku and Edin Hazard, are known for their physical prowess also and may well score goals at the competition. Watch out for them in the World Cup.
Developing upper body strength
To develop upper body strength, soccer players often use exercises such as bench press, pull ups, dips, rows and shoulder press.
Players must find a balance between being strong and being agile. Ideally players become as strong as possible but avoid bulkiness in the upper body. Bulkiness moves ones centre of mass further from the ground making changing direction more challenging. So it's important to strike a balance between building strength and other athletic capabilities. Thus it's a great idea to incorporate upper body strength alongside agility alongside speed and interval training.
A study by Wong and colleagues found that by combining strength training with high intensity intervals players were able to increase their maximal strength with no changes to body mass.