My kitchen has been a little quiet lately, but the rest of the blogosphere has been pretty busy. So while I'd love to share one of my specialties with you, today I am just going to share the Rubberbanditz blog with some other bloggers' tastiest recipes of late.
And as much as I hate to admit it, I don't think you will be too disappointed.
And it's fall, so we are going straight pun'kin today.
Fat Fighter TV got us some Healthy Pumpkin Cheesecake
Carrots'N'Cake made some Pumpkin Date Nut Bars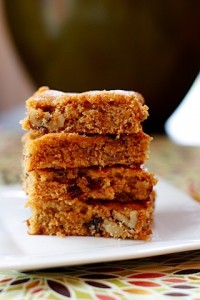 A Foodie Stays Fit made my new favorite snack, Healthified Pumpkin Chocolate Chip Cookies
Choosing Raw made something I am a little scared to try (but still is probably delicious) Pumpkin Chia Pudding
(Never Home) Maker fall-ified my favorite cold evening meal with Smoked Pumpkin Chili
And Savvy Eats ...well... She knows her breakfast! Pumpkin Pecan Sticky Rolls