What motivates you?
This question has left me dumbfounded too many times in my life, but I've realized what it is: challenges. Something that pushes me just a little bit (or a lot) further. Something that gets me out of my comfort zone.
And I don't think I am alone. When you look around the blogosphere, there are lots of challenges. It seems there are plenty of people out there who respond to a good challenge.
The cool thing about blogger challenges is that they are often very self-imposed. No one is watching you, no one is there to keep you motivated but you. The thing that makes blogger challenges different from a New Year's Resolution is that there is a whole community of Internet people pushing through the challenge just like you. You might not know them, but you know they are there.
Sometimes a little team motivation is all you really need.
Here are 4 of my favorite challenges from around the Internet. Which one are you going to try?
RunToTheFinish's PR Challenge: Find a race, fill out a form, and Amanda will pair you with someone in a similar distance and pace to see who can have a greater PR. The person with the lower PR sends a reward to their victor to say thanks for pushing you and congratulations.
Jen is Green's Green Challenge: Every month Jen is going to post a green challenge that she is going to stick to for one year, and she wants you to do the same. The challenge must be something you have to sacrifice in order to live more sustainably. Her challenge this month: Buy only local wine and beer (from the state you live in). Lucky for us NC natives, that's easy. Big Boss anyone?
(link is to Jen's guest post on Sweet Tooth Sweet Life since I am having some issues with Jen's blog right now)
ACH Food and Susan G. Komen for the Cure's Bake for the Cure Challenge: October is Breast Cancer Awareness month, so they have a challenge for you. Share the activity of baking with the survivors and loved ones in their lives. Head to the Web site to share recipes, stories and support.
Sisterhood of the Shrinking Jeans' Love Yourself October Pledge: October is the month dedicated to finding love and acceptance in your heart for yourself. You are awesome. Own it, and love it!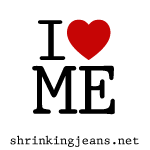 Any other challenges you are going to try this month?