As I was surfing the internet the other day, I stumbled across the most interesting study about pets and exercise, and as an avid dog and fitness lover I had to share!
In 2006, researchers at Northwestern University's Feinberg School of Medicine in Chicago completed a 12 month study that showed people and pets were more likely to lose weight if they worked out together.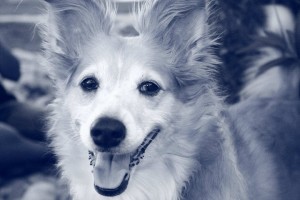 My favorite workout buddy Shii!
The dog and canines were separated into three different groups: people only, pets only, and people and pets combos. Both dogs and humans were put on a healthy diet and asked to complete a regimen of physical activity. At the end of the 12 months, the dog and people combos outperformed the other two groups.
Access the study online: here
Most people recognize the benefits of working out with a friend or family member, why not one of the four-legged variety?
Personally, I love the idea of a pet and people fitness partnership. Not only am I more likely to work out if I have a workout buddy counting on me, I also love spending time my my pups and making sure they have what they need to live long, healthy lives. This includes getting adequate exercise. Fitness is not just for people, it has positive benefits for animals too!
I'm definitely going to try it out, what about you? There are some great resources that will have you and your pet on the road to fitness in no time.
Great Overview of How to Get Started:Pets Best includes great tips about getting started, helpful activities, and signs your dog is tired. Check them out here.
Dog Stretching: Dogs need to stretch just as much as you do! Take as much care with your dog's workout as you would take with your own. Maryanne Dell offers some great options in her article Stretching Exercises for Your Dogs
Sample Dog/People Workouts: Claire Gallman offers sample workouts you can do with your pet in her article " 3 workouts you can do with your dog"
Good luck!