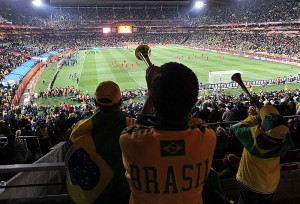 Passionate fans supporting this years host Brazil
Throughout June, Rubberbanditz will guide you through the 2014 World Cup and Soccer Month.
We'll share knowledge on soccer and the competition, give insight to teams and players, and highlight qualities that define world class players. We'll demonstrate how you can use your bands to develop athletic capabilities critical in soccer, to help you train like the pros.
2014 World Cup
The 2014 World Cup final is the single most viewed sporting event on earth. Once every four years the world's 32 best national soccer teams fight it out to be crowned 2014 World Cup champions. First there is a group stage, with 8 groups of 4 teams. The top 2 teams from each group qualify for the knockout stages. Knockout rounds continue until a single nation is crowned World Champion.
See the FIFA World Cup groups here: http://www.fifa.com/worldcup/groups/
Competition kicks off on June 12th and culminates with the final on July 13th. This year's host nation is Brazil. Games will be played in cities across the country. The final will be held in the Maracana stadium, Rio de Janiero, the second largest stadium in South America.
World rankings show that Spain is the world's number one ranked team. However the odds suggest that host Brazil is the favorite to win the competition, followed by Argentina. The USA is seen as 22nd(out of 32) most likely to win the competition. Historically, Brazil have won the competition 5 times, the most of any other team. Further, each time the competition has been played in South America, a South American team has won the competition.
USA
The US faces a tough challenge in the so called "group of death", which includes the US, Germany, Ghana and Portugal. The US's best recent World Cup position was to reach the quarter finals in 2002. Manager Jurgen Klinsmann, aims at minimum to reach the knockout stages of the competition this time round.
Key players for USA are Clint Dempsey who scored 8 goals in the qualifying campaign and Striker Jozy Altidore could also be a man to score goals for the USA.
The USA's kick games are seen in the table below:
| | | | |
| --- | --- | --- | --- |
| Date | Time | Game | Stadium |
| Mon 6/16 | 6:00 p.m. | Ghana vs. USA | Estadio das Dunas (Natal) |
| Sun 6/22 | 6:00 p.m. | USA vs. Portugal | Arena Amazonia (Manaus) |
| Thu 6/26 | 12:00 p.m. | USA vs. Germany | Arena Pernambuco (Recife) |
For complete schedule of games see: http://www.fifa.com/worldcup/matches/index.html
For FIFA world rankings see: http://www.fifa.com/worldranking/rankingtable/
Stay tuned for more updates on Soccer Month and the 2014 World Cup through our Soccer Info Page.