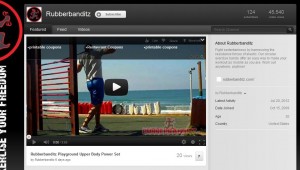 Our Rubberbanditz Youtube channel provides great content and it looks pretty sweet too.
At Rubberbanditz, we don't just sell bands and send you on your merry way! We do our best to provide you with all of the tools you need to get the most bang for your bands. We're in the process of revamping our website to make it easy for new customers and returning customers to navigate, but in the meantime I would like to point out some great resources we provide to our loyal Rubberbanditos.

Our Blog: If you're reading this, that means you know about our blog! Congratulations! We've recently revamped it in order to bring you fresh new fitness tips, different ways to use your band, and motivation to kick your workout routine up a notch.
Check back every Tuesday and Thursday for new content.

The Exercise Library: Check under the learn tab on our website to find a plethora of new ways to use your bands. You can find workouts for various fitness levels, exercises for each body part, and general fitness tips. We include a description and an accompanying video for each exercise!

Youtube Channel: We regularly update our Youtube channel with exercise videos showing a diverse range of ways and places to use our bands. Summertime? We take our bands to the beach and make a great beach workout video. Feeling lonely one day? We've got a great workout plan for two. Check us out and see for yourself.

Twitter: Do you have twitter? We do! Follow us at @Rubberbanditz . We'll make it easy for you to keep track of what we're doing and the great stuff we've found to share with you.
Facebook: Last but certainly not least, like us on Facebook. Every day we share helpful articles, funny memes, and some motivation to get you going to the gym.

We do more than just sell you bands; we also try to support your fitness goals. So check out some of our free resources and take your fitness to the next level