Though salads are billed as one of the healthiest things you can eat, most of them just aren't. This one is, and it's delicious to boot. Try this recipe from http://www.theleanchef.com at room temperature or chilled!
1 pound green beans, trimmed and cut diagonally into 1-inch pieces
1 can cannellini beans, drained and rinsed
1 can kidney beans, drained and rinsed
1/4 cup minced shallots
4 tbsp white wine vinegar
1 tbsp extra-virgin olive oil
1 tsp Dijon mustard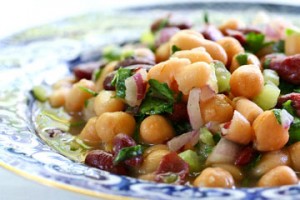 Perfect for lunches and summer picnics.
Cook green beans in a pot of boiling water for 3-4 minutes, until tender-crisp. Drain and plunge beans into cold water to stop cooking and retain color. Combine cooked green beans with cannellini beans, kidney beans and shallots in a large bowl.
Whisk vinegar, mustard and oil together and drizzle over bean mixture. Toss gently. Serve chilled or at room temperature.
Enjoy!