Climbing is a fantastic ways to enjoy the great outdoors and can get your body into tip top shape. But if you want to take your adventure to an even higher fitness level (or should I say summit ;) we recommend you engage in our Climber Press exercise. This exercise is a great warm up or addition to climbers and a great way to use your favorite rubber band in nature. The arm exercise will get your arms engaged and ready to go!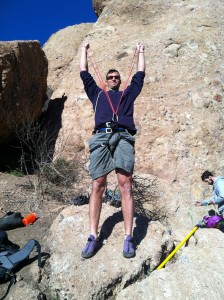 Climber Press:
1)      String your band through your harness loop
2)      Grasp the ends of the band in each hand
3)      Pull against the resistance to raise your arms over your head and slowly release back down
Just repeat as many times as you'd like until its time for you to start the real climbing!